EndNote 21 is here! Order now
Get the new tags to organise and enjoy the new data restoration function. Everything to get control and feel safe about it. Having questions? Click above or email us at info (at) alfasoft.com
There's never been a better time to upgrade to EndNote 20!
If you have EndNote 20, don't forget to update to version 20.3 for retraction alerts in Word CWYW.
The latest version has been integrated with the Retraction Watch database. This integration means users will be alerted if any of the publications in their library are retracted!
Looking to buy or upgrade EndNote, please check our webshop here.
In EndNote version 20.2, retracted papers are flagged and shown in a retraction group. If you click on a reference in the retraction group, you'll see a warning at the top of the reference with details on the retraction and links to additional information.

In your existing libraries
As of EndNote 20.2, the system checks your references against more than 30 000 listed retractions in the Retraction Watch database, all while you keep on working.
In Word Cite While You Write
As of EndNote 20.3, the system will even flag citations you are trying to insert in Word to ensure you never use references that have been retracted.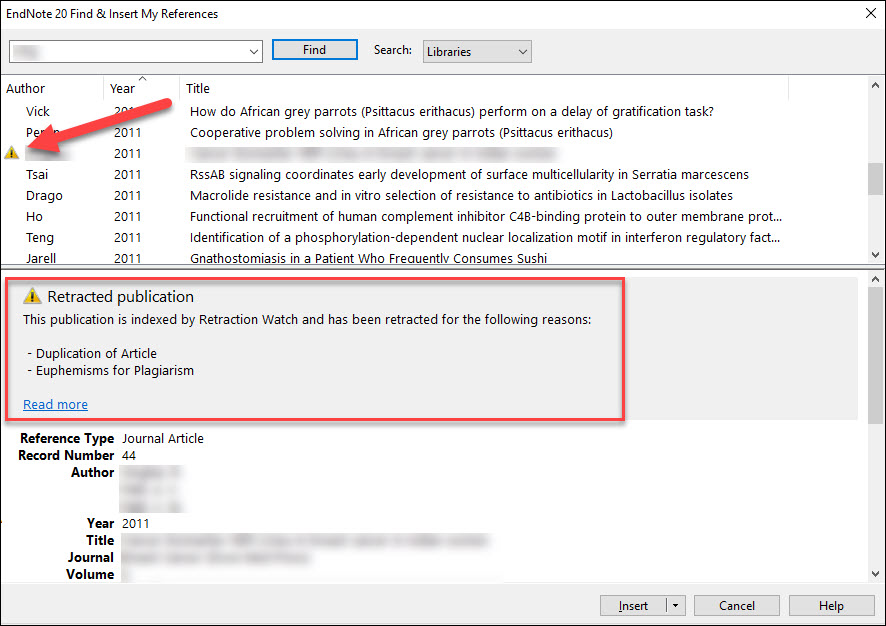 Also, if the document contains one or more retracted references, a special button will show in the EndNote toolbar on the Word ribbon. This button will persist even after the retraction dialogues have been dismissed, so you can always find the retracted citations easily.

In your existing old Word documents
In addition, if you open an existing paper with retracted references that were cited previously, it will be flagged during the next format process. This one-time warning will help make sure you're aware of any previously cited references that were retracted, so you can decide whether to remove or edit them.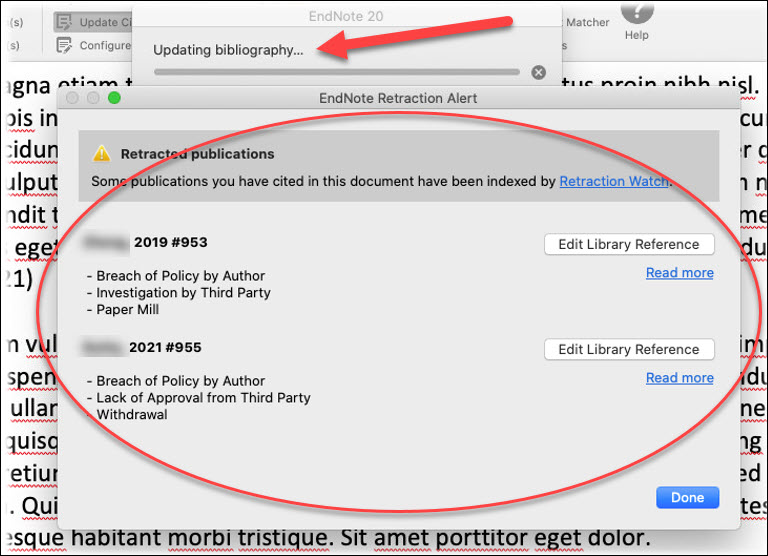 What you must do...
For EndNote to automatically check your references for any retractions, you need to:
Create an EndNoteOnline account (if you don´t have one)


Add your EndNoteOnline login details in your EndNote
And that's it!
EndNote now automagically checks your references for retractions, in any library you open.
EndNote checks retractions when a library is opened or a reference is added or edited.
Tips and details for the retraction watch function