Get the new tags to organise and enjoy the new data restoration function. Everything to get control and feel safe about it. Having questions? Email us at info (at) alfasoft.com or Buy now!
32-bit app compatibility with macOS High Sierra 10.13.4 and later
EndNote and 64-bit technology.
EndNote X9 is fully adapted to the 64-bit technology, please update! Read more here Update to version EndNote X9.3.2 for Mac.
About the transition to 64-bit technology and how it affects 32-bit apps.
State-of-the-art technology is what makes a Mac a Mac. All modern Macs include powerful 64-bit processors, and macOS runs advanced 64-bit apps, which can access dramatically more memory and enable faster system performance. The technologies that define today's Mac experience—such as Metal graphics acceleration—work only with 64-bit apps. To ensure that the apps you purchase are as advanced as the Mac you run them on, all future Mac software will eventually be required to be 64-bit.
Apple began the transition to 64-bit hardware and software technology for Mac over a decade ago, and is working with developers to transition their apps to 64-bit. At our Worldwide Developers Conference in 2018, Apple informed developers that macOS Mojave is the last version of macOS to run 32-bit apps.
While developers optimize their apps for 64-bit compatibility, Apple is notifying customers when they are using an app based on 32-bit technology. This is done via a one-time alert that appears when you launch a 32-bit app. In macOS Mojave, this alert appears once every 30 days when launching the app.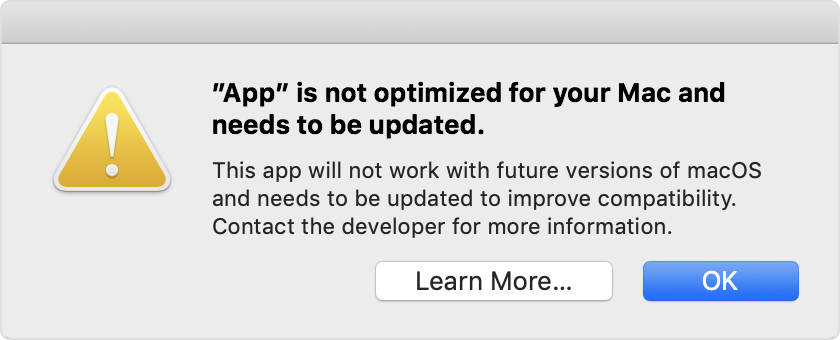 Below you will find more information about the alert and what the 64-bit transition means for you.
Why am I seeing this alert?
Starting with macOS High Sierra 10.13.4, apps that have not been updated to use 64-bit processes produce a one-time alert when opened. This gives users advance notice that they are running 32-bit software, which will not be compatible with macOS in the future.
Can I keep using my 32-bit apps?
Yes, you may continue to use 32-bit apps with your Mac today. Using 32-bit software has no adverse effects on your data or your computer.