EndNote and iCloud do not like each other. Here we explain why and what to do.
EndNote and iCloud
iCloud is a cloud-based file sharing service (like Dropbox, Onedrive, box etc.). EndNote as a database product was not designed for compatibility with these kinds of services. While you can use any of the services to keep a backup copy or a compressed copy of your database file(s), we do not recommend opening and/or using the database from that location.
The technical reason is that EndNote needs to save several files in a specific order. If one of these files are simultaneous synced, then EndNote cannot save to it and the library may be corrupted. You can read more about this here, Technical reason to use EndNotes sync functionality and nothing else
Always make sure your library file is local to the system's hard drive, and not on a network drive, or in an iCloud, DropBox, Onedrive-style synchronized folder.
Notice!
MacOS versions 10.12 (Sierra), 10.13 (High Sierra), 10.14 (Mojave) and higher contain features to save the contents of the Documents folder in iCloud and to "optimize" storage by storing less-used files only in iCloud online. EndNote libraries stored in iCloud, even when stored on both the hard drive and online, are subject to corruption over time.
If you choose to store your documents in iCloud, we suggest creating a separate folder in your home folder and saving your EndNote libraries there. Do not store EndNote libraries in iCloud or any other cloud-syncing folder, and do not store EndNote libraries in the Documents folder if you have selected the option to store documents in iCloud.
iCloud sync is controlled on two places on your Mac. Under "System Preferences" and in the Apple menu under About This Mac>Storage, see below for both.
Desktop/Documents (place 1)
On your Mac, go to Apple menu>System Preferences>iCloud. Next to iCloud Drive, click Options to see if your desktop and/or documents are synced to iCloud.

Storage allocation (place 2)
To save space on your hard drive you can let Apple handle your storage. This means that some files will be moved to iCloud and will only be downloaded whenever you need them. Basically, some files are not physically located on your local hard drive but on iCloud instead.
If you just disable iCloud you will lack the uploaded files on your local hard drive as iCloud does not automatically restore them on your computer.
You can check whether the above is the case on your computer by going to the Apple menu>About This Mac>Storage>Store in iCloud, see below.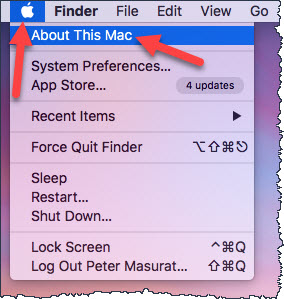 For more information see your Mac-computer manual.
EndNote synchronization
The EndNote Synchronization process is sensitive to the location where the library is stored.
If the storage location is a network drive or an external drive, this can pose a latency issue with saving and sending information which can disrupt the library. Even more disruptive can be ANY process that attempts to Copy EndNote Library files while the EndNote library is open.
This includes any backup process that dynamically scans, and transfers data. Backup processes like Time Machine, Backblaze, Carbonite can perform this way. As does most synchronization services: iCloud, DropBox, OneDrive, SuiteSync, GoogleDrive, Box, etc.

If the EndNote library is stored in a hostile location, Sync is eventually going to collapse as the library becomes more and more damaged by conflicts during EndNote's save process.
The solution is to save the library in a location which is not hostile (local and not synced by anything).
One possible storage location
One place to store your library is in the application folder as this is not by default synced to iCloud. If you try this be sure to create a new folder for your EndNote library. DO NOT store the library in the program folder for EndNote, or the *.DATA folder of another EndNote library.
Please note that Alfasoft does not take any responsibility as to where you save your library. Also, what locations on your computer that is synced in any way is up to you and Apple.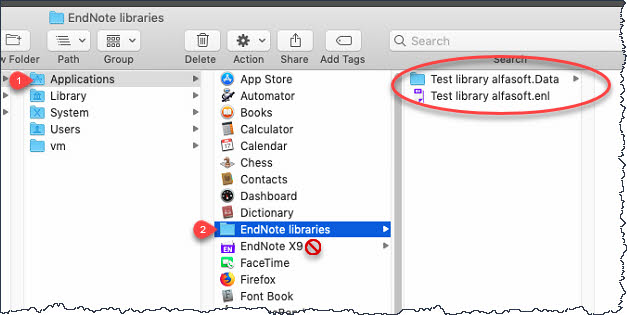 Helpful tips
Before you turn off a feature on your Apple devices, or before turning off iCloud completely, you can make a copy of the information you keep in iCloud on your computer. https://support.apple.com/en-us/HT204055
Read more about iCloud features on the below link
How to free up storage space on your Mac
How to use Pro apps [and EndNote] with optimized storage