Customers turn to us to understand NVivo better!
Read more here (NVivo partner 2011-2021)
There are different strategies for teamwork available in NVivo listed below. The main rule is that all users have to be on the same version (including updates) of NVivo.
Collaborating on Windows and Mac together
With the latest version NVivo 14 cross-platform collaboration is now possible, and project files do not need to be converted between Mac and Windows, when using Collaboration Cloud.
For all previous versions (NVivo R1/2020, NVivo 12 and older) sharing NVivo projects between Windows and Mac as a team, is not recommended as a long-term solution for teamwork, as project files have to be converted, which can lead to file corruption. All team members should either use Windows or Mac. Please read this article for more information.
Here are the three options for teamwork in NVivo:
NVivo Collaboration Server (NVivo for Teams)
A server-based solution, only for Windows. Allow several people to work on the same project file at the same time. All data is stored on the local server.
Collaboration Cloud
Add-on for NVivo designed to facilitate teamwork. It is a subscription service connected to the myNVivo profile. Each user needs a valid NVivo license and a seat in the Collaboration Cloud subscription.
Share a project file manually
Create a Master Project file and share copies of it with your team members, and then merge those into one file.
1. NVivo Collaboration Server
A central server at your institution holds all project files, allowing team members to work on the same projects at the same time, with the ability to see others' work as they save. Collaboration Server is only available for NVivo Windows.
Please find more information about setup here.
2. Collaboration Cloud
Collaboration Cloud is an add-on module for NVivo designed to facilitate teamwork. It is a yearly subscription service with a default of 5 seats per subscription (more team-members can be added). All team members have to be added to the subscription by the purchaser/license admin in the myNVivo Portal. All members with a seat under the same subscription are then able to collaborate in NVivo. Assign a license/seat to a new user in the myNVivo Portal (new NVivo)
If you are using NVivo R1/2020 and Collaboration Cloud it basically works as a sharepoint, where the workspace manager uploads the master project file, adds collaborators and they can download the file, add their changes and upload it again to the Collaboration Cloud. The workspace owner then collects the project files of the team members and merges them in NVivo. NVivo R1/2020 and Collaboration Cloud is compatible with both NVivo Mac and NVivo Windows but it is not possible to work cross-platform on a project. Find the full workflow description here.
If you are using the latest version NVivo 14 and Collaboration Cloud, multiple users can connect to the same project to update, code, and analyze research in real-time. Projects are uploaded by the Project Manager to a secure place in the cloud, then the collaborators are added and they clone the cloud project onto their computers from where they can work on the cloud project. It is also possible for team members to work on the project off-line and it will be synced with the cloud project when they next have a connection to the Internet.
Syncing projects across Mac and Windows does eliminate the file conversion process. With NVivo 14 and NVivo Collaboration Cloud, users can open projects across both Mac and Windows.
NOTE In this first release of NVivo 14, only Windows users can create a project and upload it to the cloud. Mac users can only clone projects that Windows users creates and can only be collaborators on a project. For this release, Project Owners can only work from NVivo for Windows.
Find the full workflow description here.
Log into
Collaboration Cloud
All users, in all roles, log into Collaboration Cloud from within NVivo (Windows or Mac). They must be logged into NVivo with the correct profile and account for the Collaboration Cloud subscription. Log into myNVivo in NVivo
3. Share a project file
If you want to work in a team, you can also share your project file manually with another NVivo user just by saving a copy on e.g. a USB stick (or sending it via email). After every team member has added their part of the work the project files have to be merged in NVivo (more info).
The person receiving the project file should make sure not to access the file directly from the USB-stick but instead, store it as on a local drive first. Also, you should work in the same version of NVivo and use the same platform (either Mac or Windows).
Before sharing the project file, it is important to check where your imported files are stored. Usually, when you import files into NVivo the software creates a copy of these files in the NVivo project. However, when you are working with larger files (e.g. audio or video), those might be stored outside NVivo and you would have to share them too with the correct file path (right-click on a file - properties, to find out).
User profiles help to review work of team members
In order to review the work from different users, the first requirement would be that everyone in the team works from the correct user profile at all times (File - Options - User Profile).
Then you can e.g. review the coding by different users by using the coding stripes (coding stripes - selected items - users), or by using a coding query (setting: coded by any – [name] - user):

​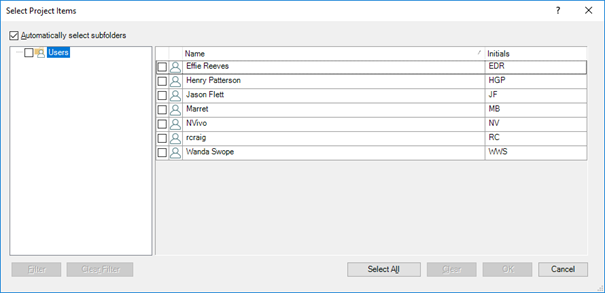 You can also run a coding comparison query in NVivo. Please find more about teamwork and user profiles here.