There are different strategies for teamwork available in NVivo 12. Either you use NVivo for teams (a server-based solution, only for Windows), to allow several people to work on the same project file at the same time. Or you share a project file, either by working on it one after the other (agree on a schedule) or by sharing copies and merging those into one project.
Please find more details here.
Copy and share projects
If you want to work in a team, you can share your project with another NVivo user just by saving a copy on e.g. a USB stick (or sending it via email). The person receiving it should make sure not to access the file directly from the USB-stick, but instead store it as on a local drive. Also, you should work in the same version of NVivo and use the same platform (either Mac or Windows).
Before sharing the project file it is important to check where your imported files are stored. Usually, when you import files into NVivo the software creates a copy of these files in the NVivo project. However, when you are working with larger files (e.g. audio or video), those might be stored outside NVivo and you would have to share them too with the correct file path (right click on a file - properties, to find out).
Protect your project using passwords
Also, you might want to protect your project with a password, so that the others can only read, but not write in it:
Set passwords to restrict access to your project
A 'Read/Write' password—allows full access to the project.
A 'Read Only' password—allows users to view the project. This password also allows users to copy your project or import data from your project into another project.
Set project passwords in Project Properties—click File > Project Properties.
Use user profiles to review your work
In order to review the work from different users, first requirement would be that everyone in the team works from the correct user profile at all times (settings in the Application Options).
Then you can e.g. review the coding by different users by using the coding stripes (coding stripes - selected items - users), or by using a coding query (setting: coded by any – [name] - user):

​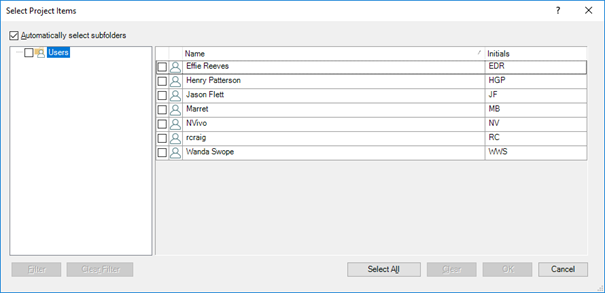 You can also run a coding comparison query in NVivo. Please find more about teamwork and user profiles here.