Customers turn to us because they want to understand NVivo better!
Read more here (NVivo partner 2011-2021)
Nord University has several license agreements with us that give employees and students the right to download and install the programs on their private computers.
To access these licenses, there are three things you need to do:
Register with your nord.no email address ("firstname.lastname (at) student.nord.no or firstname.x.lastname (at) student.nord.no, NOT student number (at) nord.no!) In our help centre by clicking Sign up (top-right on this page), and then the Sign up link. It is important that you register with an email that ends with nord.no! No other email domains will work other than the associated Nord University.
After registration, you will receive an email that you must confirm. Check your spam box if you do not receive it.
You can now log in to our Help Center at support.alfasoft.com at any time. Select the category "North University" in our help centre. Here you will find all license letters/articles belonging to Nord University.
The licenses are only valid for employees or students at Nord University. If your relationship with Nord University should end, the licenses must be uninstalled.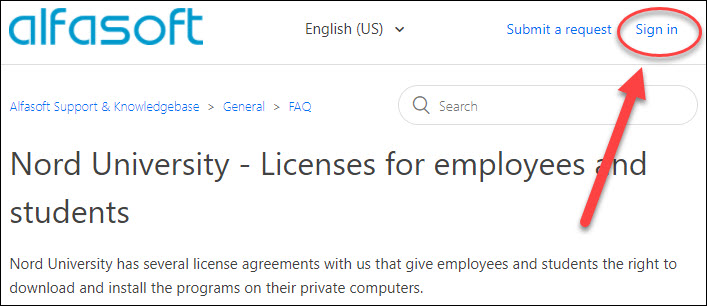 After registration and logging in you will see a new section with Nord University license information, see the picture below. Please click this section and follow the instructions.