EndNote 20 is here, for Mac and Windows!
Buy the new EndNote 20. Click here for our webshop, or email us at info (at) alfasoft.com
The EndNote 20.1.0 update provides compatibility with Apple Silicon-based Macintosh. Please update to EndNote 20.1.0
Rosetta explanation
Rosetta 2 is an emulator designed to bridge the transition between Intel and Apple processors. In short, it translates apps built for Intel so they will run on Apple Silicon (like the M1 chip).
To the user, Rosetta is mostly transparent. If an executable contains only Intel instructions, macOS automatically launches Rosetta and begins the translation process. When translation finishes, the system launches the translated executable in place of the original.
Some apps (including Microsoft Office apps) are translated the first time you run them. That need to translate on the first run means the apps may initially launch a little more slowly than normal (up to 20 seconds, in some cases), but you won't experience the same delay the next time you run the application.
The first time you launch a Mac app on an Apple Silicon computer, you might be asked to install the Rosetta component to open it. Rosetta will then be available for any of your apps that need it.
Mid-December 2020 update for Office
Microsoft is rolling out fresh versions of its Office apps that work natively with Apple's M1 chip, the powerhouse of the new Macbook Air, Macbook Pro and Mac Mini. Specifically, the apps getting an upgrade are Outlook, Word, Excel, PowerPoint and OneNote.
To grab Microsoft 365 update, head to the Mac App Store and check the Updates tab.
Background, and deeper info about Rosetta
The second version (Rosetta 2), introduced in 2020 as a component of macOS Big Sur, and is part of the Mac transition from Intel processors to Apple silicon.
Intel-only binaries automatically open with Rosetta 2, there is no other way to run them. The "Open using Rosetta" flag is only relevant for universal binaries (which contain both Intel and ARM code) to force them to open with Rosetta (e.g. if they require plugins only available as Intel binaries).
Does the app need Rosetta to run?
The Get Info trick is also a great way to identify universal Mac apps that need Rosetta or can use Rosetta by viewing the information labelled Kind:
Application (Intel): This means that the app supports only Intel processors and needs Rosetta to work on any Mac with Apple Silicon.
Application (Universal): This denotes the app that supports both Apple Silicon and Intel processors, and uses Apple Silicon by default.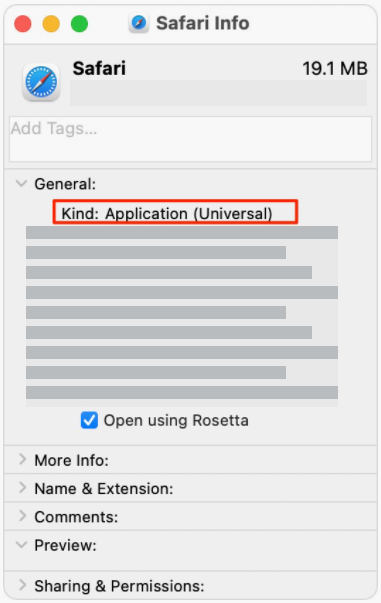 if you're using an older Intel-only app without Apple Silicon code, you won't see the option "Open using Rosetta" or it will be greyed out.