Please note the Endnote producer, Clarivate, are still testing compatibility with the Apple M1 chips. We will note any known issues and workarounds on this article as they continue their testing and work on permanent solutions.
Some customers with M1 machines have reported an error message stating that Word can't load an add-in. The workaround for this is to set Word to open with Rosetta.
Update, mid-December 2020 update for Office
Microsoft is rolling out fresh versions of its Office apps that work natively with Apple's M1 chip, the powerhouse of the new Macbook Air, Macbook Pro and Mac Mini. Specifically, the apps getting an upgrade are Outlook, Word, Excel, PowerPoint and OneNote.
To grab Microsoft 365 update, head to the Mac App Store and check the Updates tab.
Set Word to open with Rosetta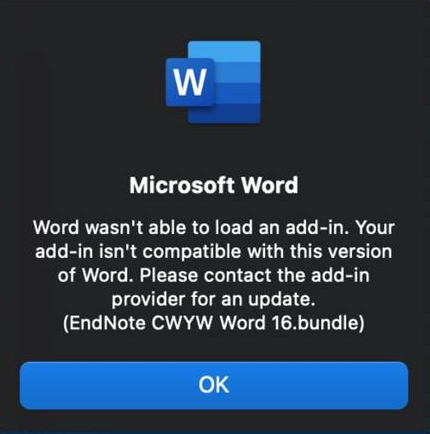 Quit EndNote and Word.
Open Finder and go to the Applications folder.
Highlight the Microsoft Word app file by clicking on it once. Note: You do not need to launch Word, just highlight it.
Go to the File menu at the top of your screen and choose Get Info.
Under General, check the option for Open using Rosetta.

Open Microsoft Word to confirm the error message does not occur.
Do you have problems getting the above to work, or just want more information about Rosetta?
Please see this article How to use Rosetta, and what is it?