EndNote 20 is here, for Mac and Windows!
Buy the new EndNote 20. Click here for our webshop, or email us at info (at) alfasoft.com
Server execution failed generally indicates that the EndNote CWYW tools/add-in in Word cannot find an appropriate version of the EndNote software.
From EndNote X9.2 to EndNote X9.3 there was a database updated (from 32 to 64 bit).
If you still have an older version of the EndNote tools installed for Word, then this could be part of the issue.
Additionally, if there's something preventing the EndNote tools in Word from being able to communicate with the EndNote Library, the same message would appear. Most likely this is being caused by some kind of security running on your system.
Solutions
Restart your computer. (Updates Windows registry/pointers)
Test with inserting a reference in a new, blank document. (Checks if the problem is with specific, corrupted Word document)
Remove EndNote CWYW Word add-in, and run Configure EndNote.exe

Word: File > Options > Add-ins > [Com add-ins] Go > Select and remove EndNote Cite While You Write.
Word: File > Options > Add-ins > [Word add-ins] Go > Select and remove EndNote Cwyw.dotm and EndNote Online Cwyw.dotm
Restart your computer
Run c:programs (x86):EndNote:Configure EndNote.exe, to add EndNote CWYW add-in to your Word. Or (better) run a Repair on your EndNote installation: Right-click Windows button (bottom-left) > Programs and features. Click EndNote in the list > Modify > Repair. A repair add EndNote CWYW add-in, and also checks integrity of EndNote files.
You may also receive the error message "Server execution failed" if you start inserting references into a Word document using the EndNote desktop (X9) application, and then insert a new citation using EndNote online. If this happens, the citation will insert. Click Ok to close the error message and Word [EndNote]: Convert citations and bibliography > Convert to unformatted citations using EndNote online. Format the citations again using the EndNote online Update citations and bibliography command, and you should be able to continue using the document as normal.
Also if your EndNote is installed locally, and your Word is installed on a server in your network/virtually, this could happen. If EndNote and Word are installed on different hard disks, and/or cannot communicate with each other you will get the same error message. Please ask your system administrator for help.
Word: Remove the old add-in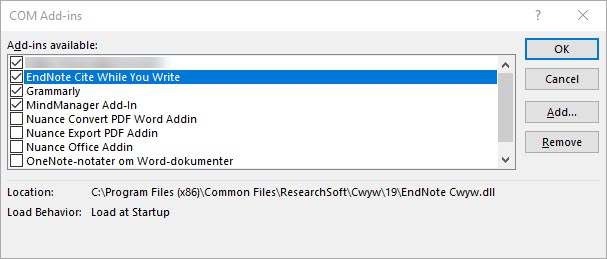 Word: Remove the old template