Get the new tags to organise and enjoy the new data restoration function. Everything to get control and feel safe about it. Having questions? Email us at info (at) alfasoft.com or Buy now!
Sometimes the citation in a document can be corrupt for various reasons. It is often not all citations that are affected in the document and it is then important to be able to find the citations that have become corrupt. Below we describe a way to find these corrupt citations.
Each of EndNote's formatted reference/citation is replaced in the document by so-called hidden field codes. You can think of field codes as an equation in an Excel cell. If you write in the cell "= 2 + 2" you will see the number 4 in the cell, that is, you see the result of the equation, but not the equation itself. In the same way, the field codes in Word works, you see the result of the field code (= citation/reference) but not the field code itself. Sometimes these field codes become corrupt and the citation stops working.
How to find corrupt EndNote citations/references
The normal procedure when it comes to any corruption of field codes is to run "Unformat citation".

A corrupt citation will remain formatted.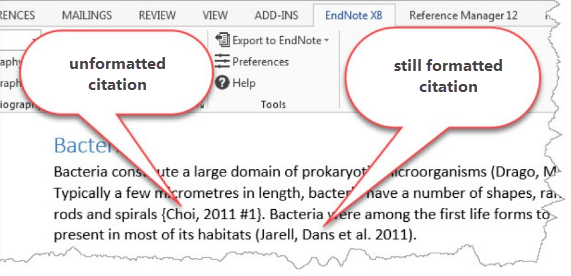 But how do you find citations that are not formatted in a long document??
In Word, there is a function to turn on a grey marking of field codes, which in turn makes them easier to find in the document, see the picture below.

Follow these steps to turn on the see-field-codes-function in Word
Click File and then Options.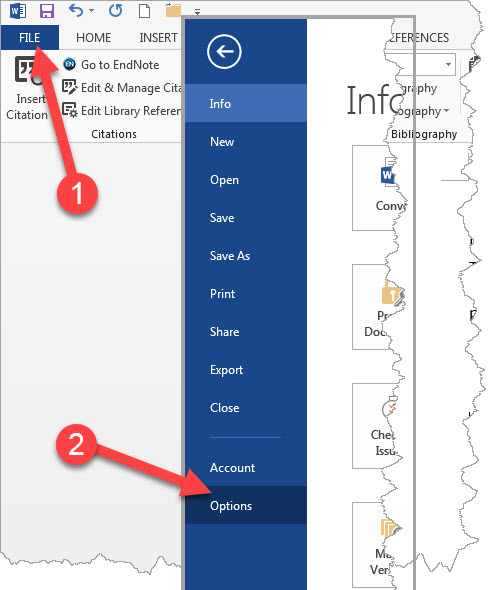 In the dialogue that pops up, select "Advanced" and scroll down to the section "Show document content". Under this section, you will find "Field shading" which you set to "Always" [5].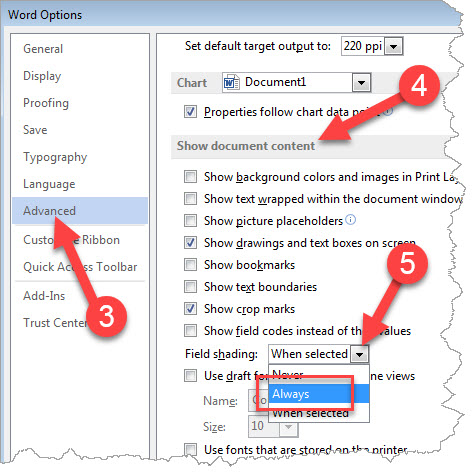 The result is that field codes are always greyed in the document and thus become easier to find.
When you are done and have corrected the incorrect quotes, you can return the above settings to "When selected" instead of "Always".