Customers turn to us to understand NVivo better!
Read more here (NVivo partner 2011-2021)
In case you experience data loss or not all changes are saved in your NVivo project, the reason might be that your project is stored on a network drive. The below information applies for NVivo 12 or older. For NVivo Release 1, have a look here: Why should I store my NVivo project on a local drive? Can I store it in a Dropbox or on a network?
The project file is being stored on a network location while being accessed by NVivo.
Data loss issue can occur with projects located on a Network location. By default, if the project is stored on a network drive, when you save, your changes are saved locally and the .nvp project file on the network is not updated until you close the project. If the project is not closed and the computer restarts or crashes or NVivo is closed, you can experience data loss.
Important! While it is safe to store your NVivo project on a network drive, please make sure to create a local copy on your desktop when working in the project. This way you can avoid data loss.
To avoid the same behaviour in the future
Please go to NVivo's options via File > Options. Change the "Update projects on network drive" setting to "On save". This will ensure the project on the network drive is updated at each save, however you may experience slow performance during this process.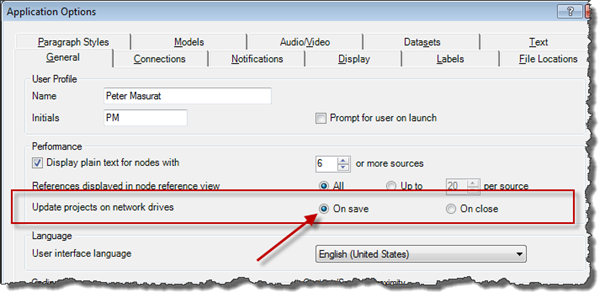 Update NVivo
Please also ensure you have updated your NVivo to the latest Service Pack to overcome this issue. This is especially important with NVivo 10. To determine if you need to update your software:
Visit the following webpage to determine if there is an update available for your installed version of NVivo:
http://www.qsrinternational.com/support_downloads.aspx
In NVivo you can see your version under File>Help>About NVivo.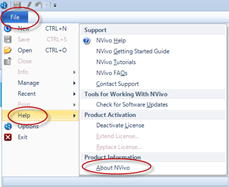 Final Tips
To overcome this issue, it's also recommended to create an exclusive folder on your C drive to save the project files and work on your project files directly from this folder.