50% off any NVivo and EndNote online courses
Black week pricing is only available until Dec 1st. Book your seat now!
Here we give a generic explanation of how you can define what colours should be used for the nodes in NVivo.
These colours can then also be made to correlate with, for example, the coding stripes. All in all, this can make the navigation and visual structure of your NVivo project much easier.
Mac instructions
For specific Mac instructions please see the below addresses:

Windows
You can define colours for a number of different items in NVivo.
You can assign colours to:

Sources

Nodes

Relationships (NVivo Pro and Plus only)

Attribute values

Users
Defining Node colours
Start by defining colours for the nodes you have. Right-click on any node and use the "Color" section in the popup menu to define a colour for the node, see picture below.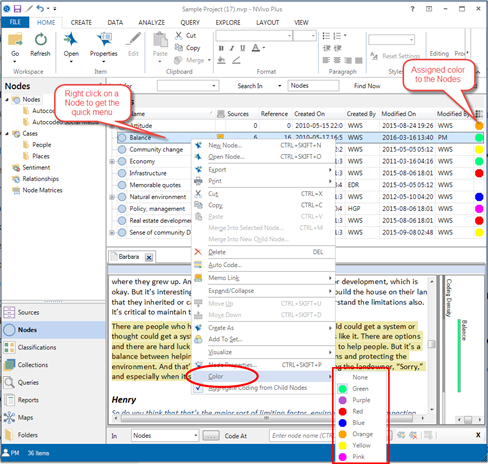 Define coding stripes colour
Next, you can define to correlate the node defined colours with your coding stripes, see picture below. When you look at a source you can under the View tab click on "Coding Stripes" and define what coding stripes you want to show. Once your coding stripes is shown you, under the View tab, click on the small arrow at "Color Scheme". You can now choose how the colour of the coding stripes should be defined: Automatic or by Item colours.
Automatic display random system generated colours

Item Colors match with the colours you have defined for your Items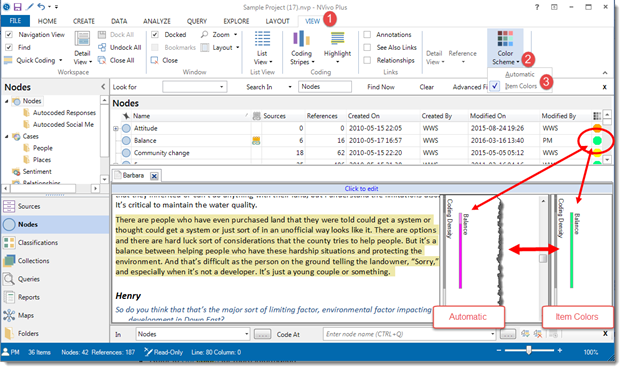 Setting the default value for NVivo projects
Finally, we show you how you can define what should be used as the default for all projects. In NVivo click on the File tab and then on "Options" in the menu to the left. The dialogue box shown in the picture below is shown and you should choose the Display tab in the box. Next, you change the "Default colour scheme" to whatever choice you prefer, see picture below. This change will affect all projects you open in the future.